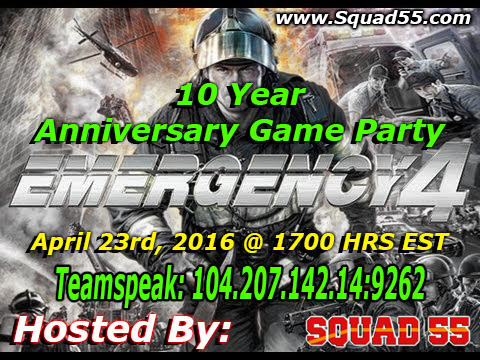 All Welcomed Including: Emergency Planet, LCPDFR, EM4 Fan Forum, Emergency-E4 Boards and More!
Game Type Preferred
: Base EM4 Game
Difficulty Setting
: None
Time Frame
: 1700hrs - 0000hrs EST
Rules
:
1. HAVE FUN!
Event
:
All EM4 Community Members,
10 Years ago, Wizard Works released
Emergency 4
to us! Over the next few years cummunatys, Clans and just general enthusiasts started popping up everywhere! Today, 10 years later, we are happy to say that the game is still kicking!
Thank You,
Squad 55 Command
Event Page can be found here:
squad55.com/e107_plugins/aacgc_mp/Details.php?det.39
Event Forum can he found here:
squad55.com/e107_plugins/forum/forum_viewtopic.php?19545.0
The post was edited 1 time, last by Eddie117 ().